HR Award – HRS4R

The CRI applied for the HR Excellence in Research Award.
HR Award is a prestigious certificate given by the European Commission to highlight research institutions that provide an excellent human resources care.
Benefits of the HRS4R implementation
To secure an open, transparent, and merit-based recruitment

Professional development and growth of researchers

Attractivity and stronger status of the CRI

Networking with other European research institutions

Benefits in the TACR, Horizon 2020 etc. programs

To guarantee quality working environment
Project outputs
In 2019, the CRI subscribed to the principles constituted in the European Charter for Researchers and the Code of Conduct for the Recruitment of Researchers. It is a set of general principles and requirements which specifies the roles, responsibilities, and entitlements of researchers as well as of employers and/or funders of researchers. It constitutes a framework for researchers, employers and funders which invites them to act responsibly and as professionals within their working environment, and to recognise each other as such.
The CRI implements the HRS4R by performing thorough analysis involving questionnaire and interviews (GAP Analysis). They identify possible imperfections of current human resources policy. Subsequently, the specified Action Plan was created. It strengthens the CRI human resources strategy and achieves the C&C principles.
Summary
Time schedule of the HR Award process with our actual position marked. The Action Plan was submitted for assessment.

Source: EURAXESS
Time schedule of the HR Award process with single steps specification.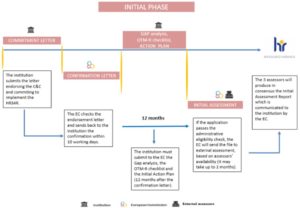 Source: EURAXESS
Long-term schedule of the HR strategy.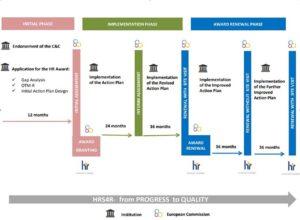 Source: EURAXESS
Steering Committee
RNDr. Mikuláš Madaras, Ph.D. – Director of the Institution
Ing. František Brožík – Deputy Director for Finance
Dr. Ing. Pavel Čermák – Deputy Director for Science and Research
Ing. Miloš Faltus, Ph.D. – Chairman of the Institute Council
Ing. Eva Kunzová, CSc. – Head of the Department of the Crop Management System
doc. RNDr. Jaroslava Ovesná, CSc. – Head of the Department of Crop Genetics and Breeding
doc. Dr. Ing. Jaroslav Salava – Head of the Department of Crop Protection and Plant Health
Ing. Mgr. Miroslava Bodrinová – Trade Union Representative
Working Group
Ing. Gabriela Schlesingerová, Ph.D. – Leading Manager
Ing. Miloslav Vlček – Guarantor of Professional Activities
Ing. Mária Krupková – Analyst, Project Manager
Mgr. Milada Slezáková – HR Manager
Mgr. Michal Bielecki – Legal Services
Ing.Tereza Nešporová – Stress Biology and Biotechnology in Breeding
Ing. Martina Trávničková – Plant Genetics and Breeding Method
RNDr. Mgr. Leona Svobodová, Ph.D. – Molecular genetics
Ing. Jiří Zámečník, CSc. – Plant Physiology and Cryobiology

The implementation of HRS4R takes place within the framework of the OP RDE Project Strengthening strategic management of science and research in the CRI, p. r. i., project registration No: CZ.02.2.69/0.0/0.0/18_054/0014700, whose key activity is to set up the strategic management of a research organisation in accordance with the conditions for obtaining the HR Award.